Real Life Bride Round Up
October
As the weather seems to be getting much colder and darker as the autumn months change, our spirits are being lifted by
the beautiful bridal photos we have been sent of real life brides in their Paradox London shoes.
We absolutely love seeing brides on their special day, feel free to tag us in your pictures via
Instagram for a chance to be featured on the blog!
Hira Ivory
Once again, we feature one of our most popular styles, the Hira in Ivory satin. The stunning sandal isn't just for summer!
With its elegant straps across the front to help elongate the foot and embellishments of pearl and crystal over the toe, it's
the perfect accompaniment to your bridal look.
The block heel featured on the Hira are also perfect for alternative terrains, as the sturdy block heel offers a stable
surface for all day wear.  Here, the bride has styled her Hira sandals with her gorgeous lace dress and a
crystal hair piece to tie it all together. We love it when the photographer sends us images of the bride doing up their shoes,
or even a sweet moment when someone is doing them up for them.
___________________________________________________________________________________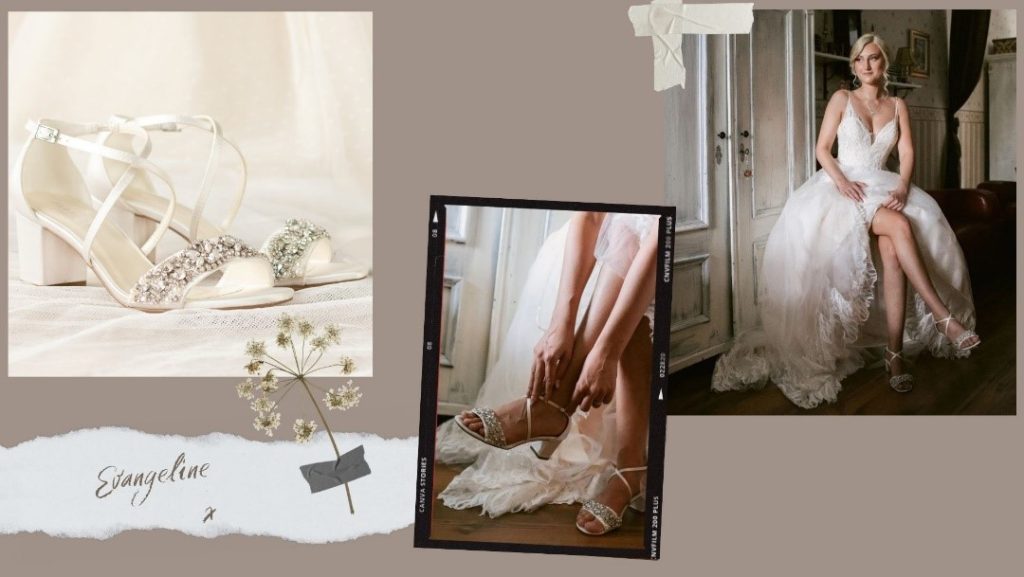 Evangeline
The sister shoe to our Hira, the Evangeline is also a stunning choice for any bride.
The Evangeline has a slightly smaller block heel for those who maybe more conscious of wanting a more comfortable heel.
Evangeline also features an elegant trim with pearl and crystal and the cross-front strap for that extra elongation.
Again, the block heel is ideal for alternate terrains and is easily able to be restyled for more wear even after your special day.
This bride has a stunning lace gown with the accessories simplified for classic elegance.
___________________________________________________________________________________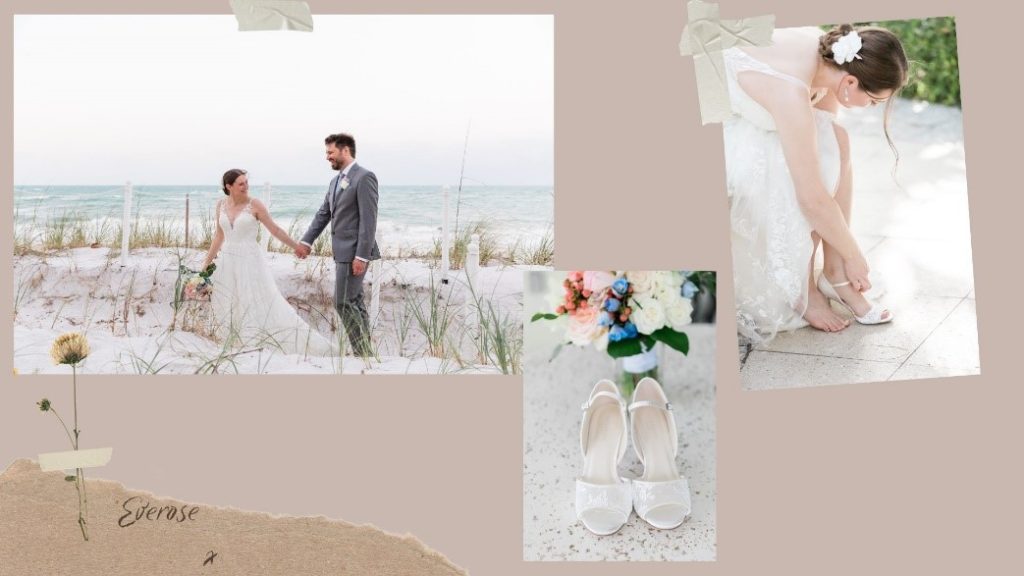 Everose
Finally, we have our stunning peep toe Everose.
The Everose is a stunning vintage inspired shoe with a lace peep toe and capped ankle for maximum support.
The peep toe features a beautiful floral embroidered lace and an open waisted design for an elegant finish.
This bride had a stunning beach wedding in her Everose, which were perfect for staying on all day and keeping on in this unique terrain!
With the addition of the ankle strap on the Everose, it is ideal for these conditions.
The bride has also styled her Everose with simple lace and floral details for elegance.
___________________________________________________________________________________
We'd love to thank all our brides for sending in their gorgeous photos.
We're so happy to be part of so many peoples' special day and love nothing more than seeing our real life brides wear our shoes.
If you have photos you'd like to share with us, please email them to [email protected] xx