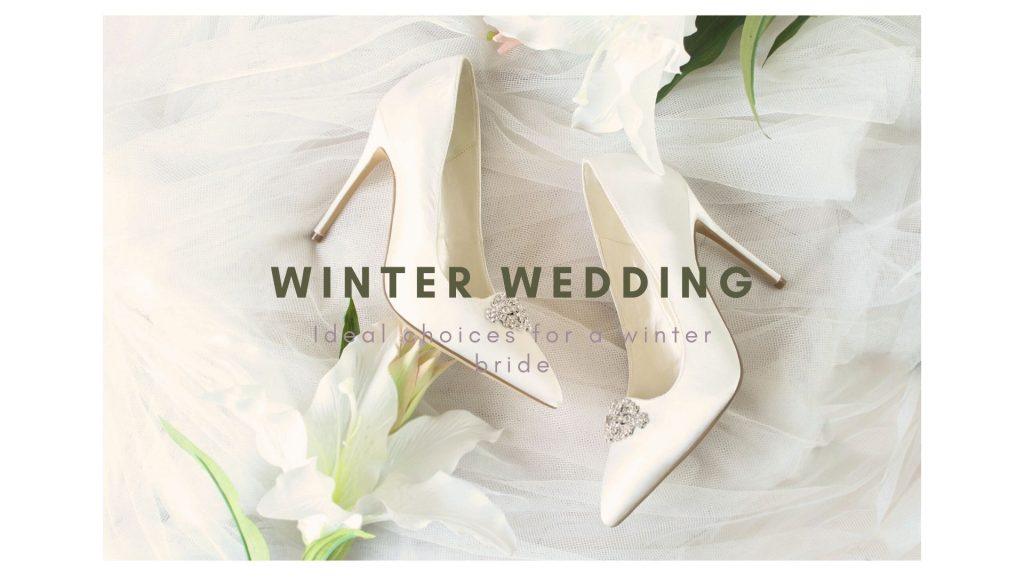 Winter Wedding Choices
Whilst the strappy sandals and open toe shoes are undoubtedly stylish, they are not the most ideal shoes for the winter season!
When you have hours of standing, dancing and posing, having a warm yet comfortable and also stylish pair of shoes
is important for any bride and even guest. As well as being comfortable, winter wedding shoes can come in many sizes and styles,
from flats to courts to trainers, there are no rules when it comes to style!
If you love court shoes, we have some fabulous styles that Carrie Bradshaw would be proud of, to something more
causal such as sparkling wedding trainers which can be worn again and again even after your special day.
Whatever your aesthetic, we've found gorgeous winter wedding shoes that will complete your look.
______________________________________________________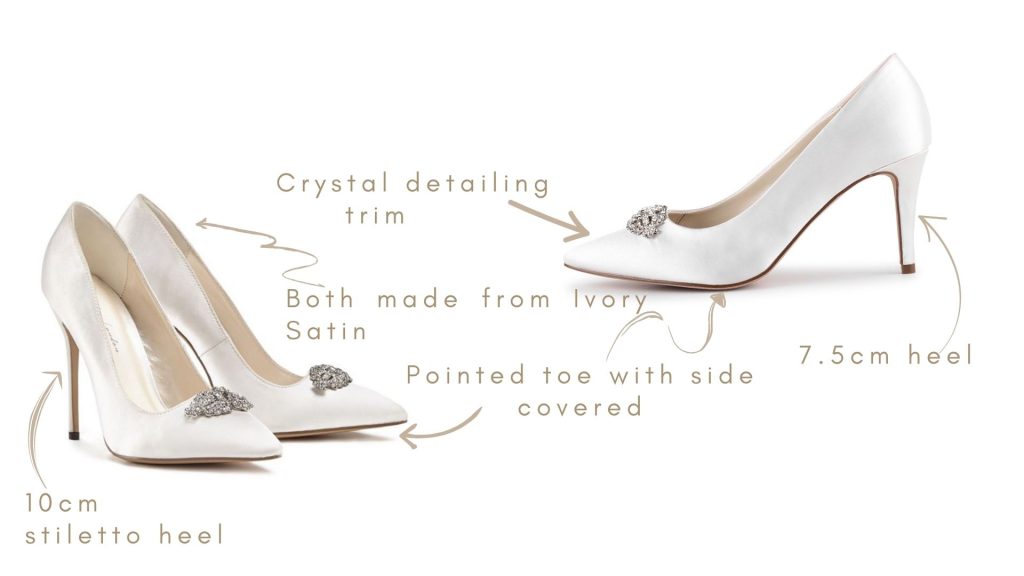 Alandra and Godiva
First up is the classic court shoe style of the Alandra, a daring 10cm heel stiletto court shoe
which is perfect for re-wearing over and over again. The simple Ivory court shoe features a delicate jewel detail which makes it
the perfect shoe for a chic, modern bride who still wants a little bit of sparkle for her big day. If the heel height of the Alandra is
too overwhelming for you, we also have the Godiva style, which is a smaller 7.5cm heel and in the same style of court shoe with the
addition of crystal trim. The court shoe style is perfect for a winter bride, as they have a covered toe and side,
which will keep the foot snug all day long.
______________________________________________________
Zarina and Zora
The trainer is a trending style for some of our brides, with the mentality 'If I'm wearing a long dress, no one will see my feet!',
we have some fabulous trainers in a classic style. If you're a bride who wants comfort and fun on their special day,
we also have our Zarina trainer, a white trainer with stunning embellishments of pearl and crystals.
The Zarina also has a padded in sock and flexi sole, which make it perfect for all day (and night) wear! Also available in our other
trainer style is the Zora, which is covered in crystals. A trainer style shoe is perfect for a winter bride, as
icy terrains will cause some slipping, but the trainer will keep you standing and dancing all day long.
The beauty of our trainers is that they can be worn again and again after your special day!
______________________________________________________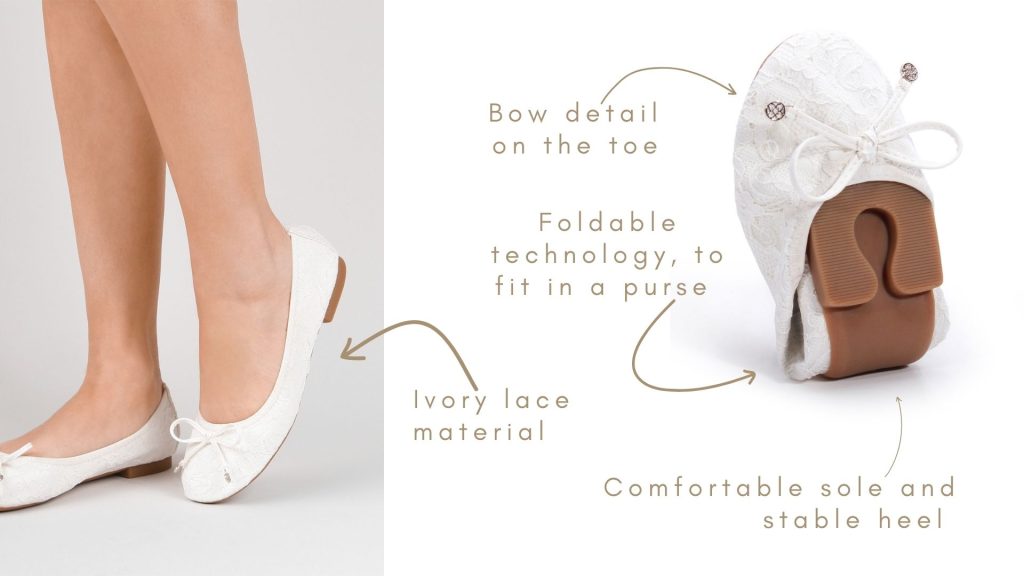 Xeelia
If you're a bride who does not want to wear heels for long periods of time but still wants to feel
glamourous, we have our pretty Xeelia flats. The Xeelia is a cute ballet pump in an Ivory lace,
with a delicate bow on the toe to finish it off. A fun fact, the Xeelia is actually a foldable shoe,
which is perfect for changing into in the night, if you fancied half a day in heels and half a day in flats!
They can fit perfectly in a clutch bag to carry around with you! The Xeelia is also the perfect spring shoe, which can be worn
with jeans and a top for a cute dressed down look. Although, the Xeelia is an ideal winter wedding shoe as it covers the toe
and fits snugly around the foot.
______________________________________________________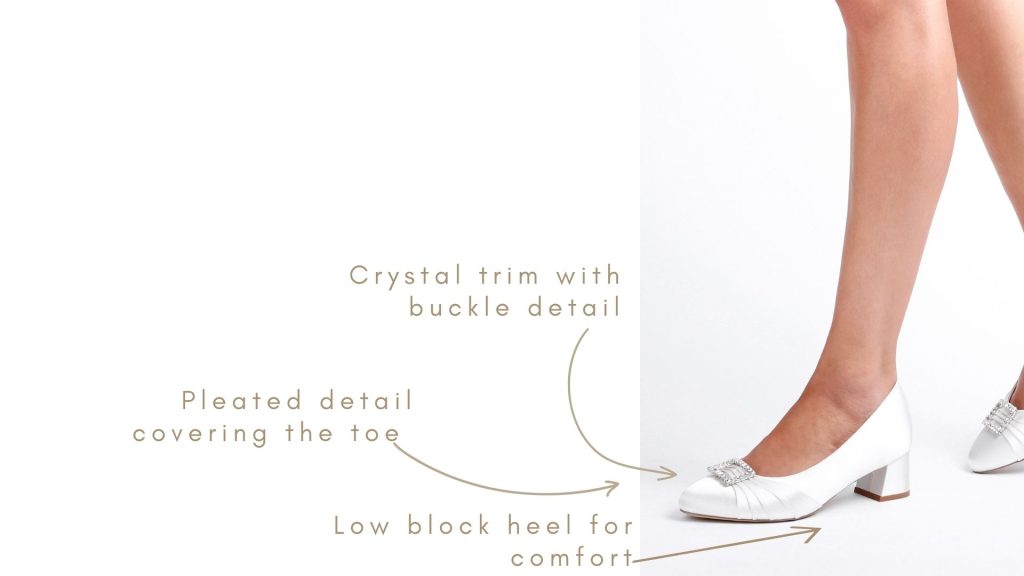 Brittney
If you're a bride with a wider foot, the Brittney is an ideal choice for a winter bride.
The Brittney is a stunning low heel flat with a comfortable memory foam padding and pleating under a crystal trim.
The Brittney heel is ideal for alternative terrains, as the low block allows you to feel stable throughout your big day.
The delicate pleating on the front makes it perfect for a chic bride, who does not want to sacrifice style for comfort.
The Brittney is an ideal choice for a winter bride as it covers the toe and side of the foot, with the
simple crystal trim making it fit for a queen!
______________________________________________________
We have we've been able to give you some inspo if you're planning a winter wedding.
For regular updates, make sure to follow us on instagram.
Paradox London xx