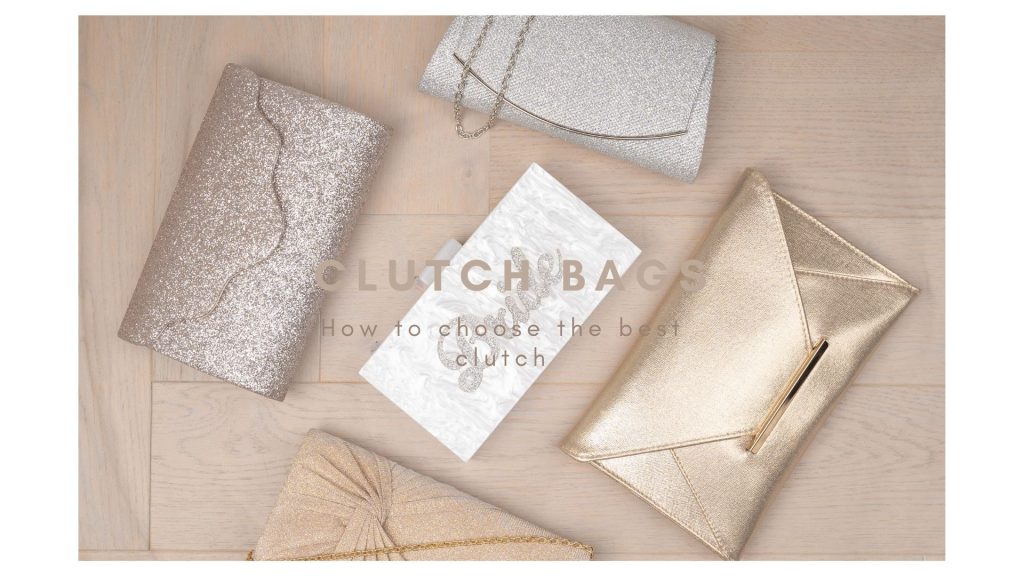 What Clutch Bag Should I Choose For My Special Occasion?
A fashionable essential for any trendy bride is the clutch.
As well as shoes, clutch bags have become a must have for keeping the crucial bits to hand, extra points if it matches the dress!
The clutch is essential for the bridal party to keep the important items close, such as tissues, phone, lipstick and mints!
Here at Paradox, we have a large selection of stylish clutches for a range of budgets and needs for style and storage in one.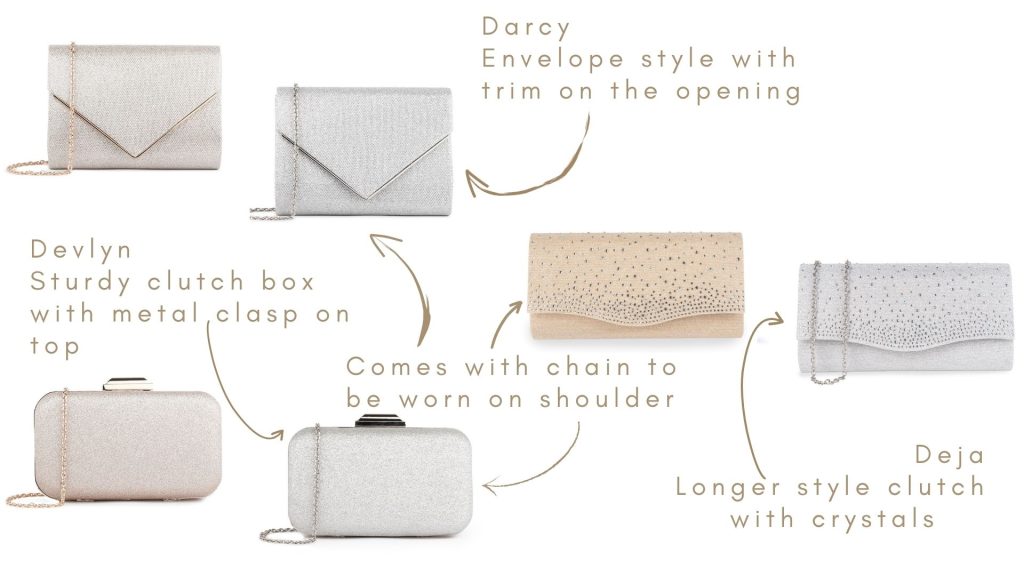 Are There Really That Many Styles Of Clutch?
There are many types of clutch bags for many different occasions, all suited to match differing needs and styles.
One of the most popular styles we offer at Paradox London is our envelope style.
The envelope refers to the opening of the bag being similar in shape to an envelope opening.
The envelope clutch is perfect match with a pointed toe court shoe, as the parallels of the pointed shape give an elegant effect.
Our glitter envelope clutch, Darcy, is a perfect match with our Kennedy court shoe.
With the matching material and streamline pointed toe, it's an ideal match for a wedding guest.
Another style we offer is our box shape clutch, such as the Devlyn.
A box clutch is perfect if you fancy something sturdier than a classic soft material bag.
Our Devlyn style has a clasp fastening which will match perfectly with your choice of jewellery.
A perfect match with our Devlyn bag is our vintage style Flamenco heel, with a flattering T-bar detail.
If you are wanting something slightly larger, our baguette style is perfect for more storage and sparkle!
The style Deja features a soft curve flap and is adorned with crystals on top of its glitter material.
The Deja is a perfect match with our Linda style sling back platform sandal.
These styles are perfect for wedding guests and bridesmaids who want to be able to co-ordinate their looks, they could even work for a bride who wants something different!
Why Have A Clutch?
Clutches are a must have bag for the bride, bridal party, and the guests.
Clutches tend to be slightly smaller than a handbag that can easily be held in one hand, perfect for hiding in photos if wanted but ideal for keeping the essentials in.
A contemporary bride may want to keep a clutch with her to keep make up near by for touch ups, or even a mobile phone to capture moments from the day.
At Paradox London, we have our Bride box clutch, which is a perfect clutch for the modern bride.
Featuring a stunning marble pearl effect with 'Bride' printed on the front with silver glitter.
The Bride bag is a statement piece made for the modern bride in mind.
Unlike other clutch bags, the Bride clutch is made from sturdy but stylish acrylic which will keep your things secure and safe whilst looking fabulous, perfect for the on the go bride.
How Can I Choose A Perfect Clutch?
A perfect clutch does not necessarily have to match your wedding dress, it could just compliment your ensemble.
For example, it could match your bridesmaids' gowns or the style and tone of your gown.
At Paradox London, we even offer a dying service for clutch bags in certain materials.
Some brides may worry that choosing a colour matched bag will look outdated.
However, if you are a bride with bright flowers, this would work to bring the colour into your look.
Or if your bridesmaids are wearing a soft pastel colour, this would work beautifully.
We offer our Darla clutch bag, made in gorgeous ivory satin with modern pleats for a chic look.
This is a perfect match with our Protea court shoe, made in the same dyable satin with same pleating at the front, essential for making a statement!
When choosing a perfect clutch, another important aspect is the size and thinking about what you really need for the big day.
A slightly smaller bag is always better as it can be hidden in photos and will not be too much effort to carry around all day.
Remember, your bridesmaids will also be carrying around handbags, so they will be able to fit items in that you may not be able to.
------------------------------------
A clutch bag is a must-have accessory for any fashion-savvy woman.
It's the perfect choice for a night out, a special occasion, or simply to add a touch of elegance to your everyday look.
However, with so many different styles and designs to choose from, it can be hard to know which one is right for you.
Here are some key factors to consider when picking the right clutch bag.
Material: Clutch bags can be made from a variety of materials, including leather, suede, satin, and even plastic.
Consider the occasion for which you'll be using the bag and choose a material that is appropriate.
For example, a leather clutch would be perfect for a formal event, while a plastic clutch could be a fun option for a casual night out.
Colour and pattern: Clutch bags come in a wide range of colors and patterns, from classic black and neutral tones to bold, bright hues.
Think about the colours and patterns that you already have in your wardrobe, and choose a clutch that will complement your existing pieces.
Hardware: Consider the hardware on the clutch such as the closure, zipper, and any embellishments on the bag.
Make sure they are of good quality and are functional.
Brand: Some brands are known for their high quality and craftsmanship, while others may be more affordable but lack in quality.
While the brand name is not the most important factor in choosing a clutch, it can be helpful to consider if you're looking for a high-quality, long-lasting bag.
Price: Clutch bags can range in price from a few pounds to several thousand pounds.
Determine your budget and look for a clutch that fits within it and also meets your other criteria.
In conclusion, a clutch bag is a versatile and stylish accessory that can elevate any outfit.
By considering the size, material, colour, pattern, hardware, brand and price, you can find the perfect clutch bag to suit your needs and style.
Happy shopping!