One of the most important parts of your wedding day is the memories that you take away from it. This is your special day, and you'll want to forever cherish it, so finding a photographer that will create an album to your taste and liking is crucial.
I'm going to highlight the best ways of finding and working with a wedding photographer, so you can feel safe that your day will be captured beautifully.
Know your theme
Photographers are artists, and like every artist, they have their own niche for the photographs they take. Firstly, think about what kind of images would ideally capture your wedding, be it;
Portraiture
Documentary
Creative Artistic
Unconventional
Portraiture is the more traditional side of wedding photography with focus on the newly-wed couples and their families all smiling and facing the camera. Documentary is based around those images where everyone looks natural, and intimate details such as the groom's reaction to the brides gown is captured. Creative, and unconventional are styles that have a bit more flare and personality, which might mean more of a staged and posed image.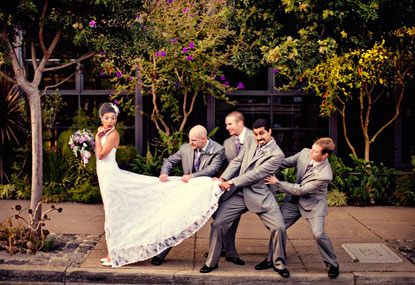 Be sure to pick a theme that you really want captured in your special day. Make it as memorable as you want.
Finding the right photographer for the job
Now is the time for the research, pour through local advertisements, agencies, or even a search engine to find a photographer that will be perfect in creating photographs that match the them you want.
Plough through the research
Look through various photographers portfolios on their websites, and identify the key images that stand out to you. Search through social media and find people have used the photographer before, and ask for an honest opinion. It will help to whittle down to your favourites.
Invite them for a coffee
It might seem odd, but what you need to know is that the photographer's personality will mesh well with you, and can help you create the perfect wedding album. Interviewing a few candidates can help to settle both the photographer's and your nerves for the big day.
Ask them for examples of their work
If you noticed a particular image or album in their portfolio that you loved when you were browsing, then ask them to bring it along to the interview! If there is a particular style of their you have fallen in love with, then there's no shame in asking to use it for your wedding. Asking specifically for a style they use is a great compliment to an artist!
Are they the one that you want
In some cases, wedding photographers work in a business with three or more working together. If this is so, ensure you are asking for the specific photographer you want, and that you have confirmed them for your big day, and not someone else in their business.
HAVE FUN
So today is the big day. Don't keep looking for the camera and worrying that they might miss something important. They're always there. Either in your line of sight, or in the shadows, but trust them to know that they are doing their job well. Relax, and enjoy your day.
Communication is always key
If there is a particular photo you'd like to have captured, or perhaps your uncle is dancing hilariously on the tables, or maybe if your wedding shoes need the limelight, then ask your photographer if they have / could they take the picture. Like I said, they know what they need to do, but a few nudges in the right direction can't go amiss.
Be sure to be patient for the final images
Usually it takes around a month for the final images to be processed. Converting RAW files (much larger and better quality than a JPEG) to JPEG images can take time, as well as editing the lighting, or slight imperfections. If you do feel like the photographer is being quieter than a library, you can politely ask what the status is, just don't rush them for the images – that never helps.
Thank them sincerely
Payment might be enough in some cases, but always be sure to leave reviews or share their social media. Photographers rely on word of mouth and recommendations, so it's always a kindness to let others what you day was like with them.