Three Ways to Style Platform Heels: A Guide to Making a Fashion Statement
Platform heels have been a staple in the fashion world for years.
These chunky heels provide both comfort and height, making them a great option for any outfit.
But, how exactly can you style platform heels to make a statement without feeling like you are in an ABBA tribute band?
Here are three ways to do just that.
Go for Bold Colours
One of the best ways to make a statement with your platform heels is by choosing a bold colour.
Opt for bright hues like red, green, or blue to add a pop of colour to any outfit.
For a more re-wearable look, try a metallic shade like gold or silver.
This is a great way to make your platform heels the focal point of your outfit.
Pair them with a neutral-toned dress or jumpsuit for a chic look.
Our brand new style Lolita is the perfect style for a bold look.
The platform sandal features a chunky block heel to add stability as well as style!
Lolita is the perfect summer sandal, but can also be dressed in the winter with some funky tights.
The Lolita heel is available in Black, Champagne and Silver, perfect for a studio 54 look.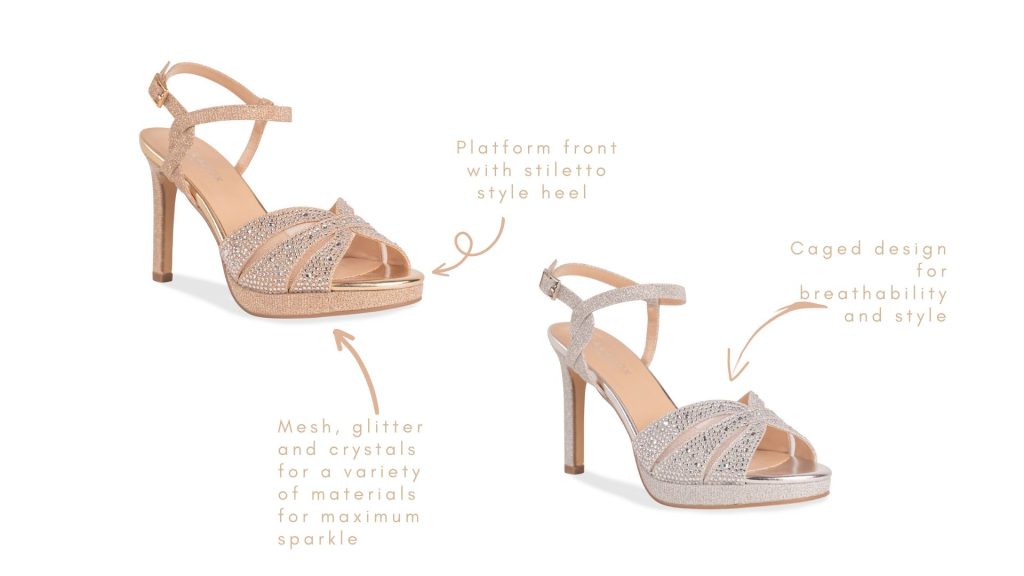 Mix and Match with Prints
Another way to style platform heels is by mixing and matching with prints.
Choose a pair of platform heels in a fun print, like polka dots or stripes, and pair them with a printed dress or top.
This creates a playful and fun look that is sure to turn heads.
A metallic colour will be easy to style with prints like zebra and leopard for a bold look.
The Roxanne heel is a sandal with stiletto heel, featuring mesh, glitter and crystals, ideal for turning heads!
Roxanne is perfect for a statement with the stunning glitter detail.
The breathability of the Roxanne makes it a perfect summer heel.
Roxanne is available in Champagne and Silver.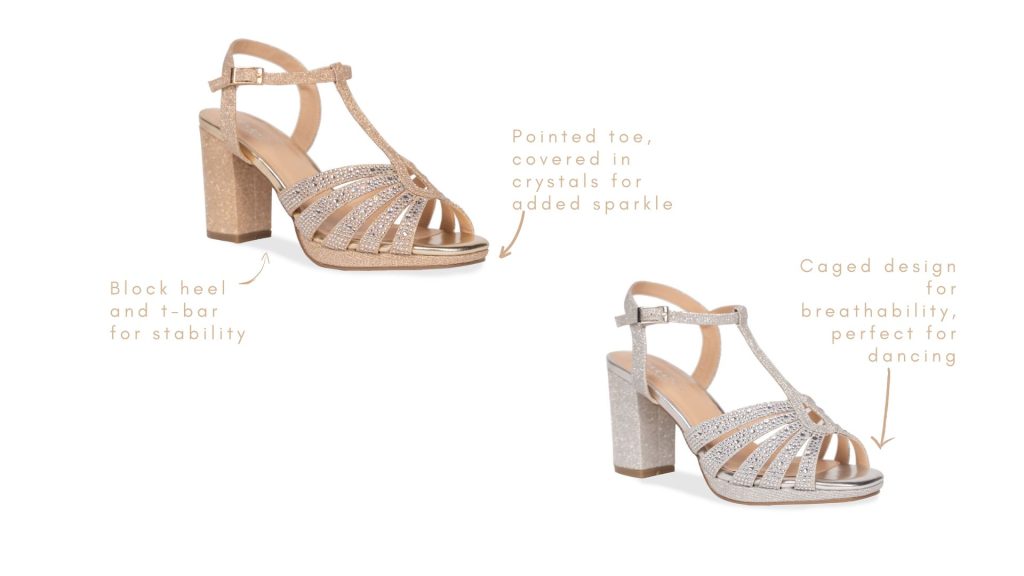 Dress them Up or Down
Platform heels are versatile, so you can easily dress them up or down.
For a formal look, pair them with a fancy dress and statement jewellery.
For a more casual look, wear them with jeans and a t-shirt.
No matter how you style them, platform heels are a great addition to any outfit.
The Tori is the perfect choice for dressing up and down.
The caged front with loop detail adds a modern touch to any look.
Tori is a wide fit style, so it is perfect if you know your feet tend to swell in the summer time.
The Tori is available in Champagne and Silver.
--------------------------------------------------
In conclusion, platform heels are a versatile and stylish shoe that can be dressed up or down.
Whether you choose bold colours, mix and match with prints, or dress them up or down, platform heels are sure to make a statement.
So, next time you're looking for a chic and comfortable shoe, consider platform heels.
Make sure you try a pair with block heels for a supportive and stable feel.
Your feet will thank you.
---------------------------
If you cannot find anything you fancy in this collection, be sure to check out our other styles online.
For regular updates, follow us on our Instagram.
Paradox London
xx