With the Summer season upon us, it's time to get on your best rags. Slip on a comfortable pair of sandals and set off to a new place for a well earned relaxation break! Whether you're looking to find something for your next special occasion, wedding event, or just a night out, we're here to show off our must have sandals! Silver sandals are the definite way to go when trying to find something elegant, classy and all-round show stopping. The Summer season calls for all things glitzy, glamourous and gorgeous. With this in mind, here are our
Top 5 silver sandals
that you should consider for your next night out, evening event or wedding!
First up is the unique and drop dead gorgeous Henrika Silver sandals, featuring a simple and elegant ankle strap. If you are looking for something that balances out both style and elegance, then the Henrika Silver Sandals would be the perfect choice. Nothing screams Summer more than a delicate heel with a cute bow tie front, and the Henrika Silver Sandals are an unbeatable choice! With a beautiful knot detail, presenting an opaque silver finish, the Henrika Silver Sandals provide more than just a summer look. Comfort, beauty and a delicate all round shimmer makes these stunning silver sandals a definite Summer choice.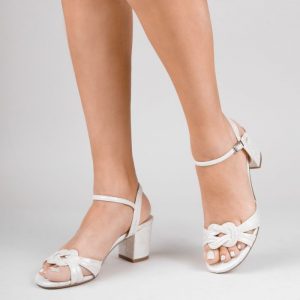 Next up in our Summer styles with Silver sandals is the stunning Ivana Silver Sandals. Featuring a low heel, and strappy style across the sandal, the Ivana Silver sandal makes for a unique heel. The Ivana Silver Sandals are a great way to kick off any Summer event. Intricate detail is not a miss with these dazzling pair of Ivana Silver sandals. The Ivana silver sandals are great for weddings, summer parties and evening events. If you're looking to find a comfortable style in sandals, then consider the Ivana Silver Sandals!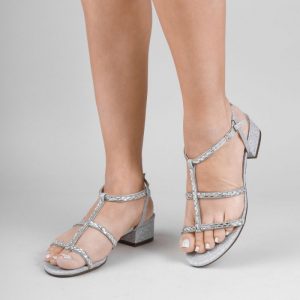 Delicate, glamourous and stunning. The Hattice Silver sandals feature a beautiful asymmetrical strap, with gem studs across. If you are looking for silver sandals that stand out, then Hattice silver sandals are a great choice. With a silver glittery finish, cross strap front and a mid heel, you're bound to stand out for your next Summer event! Comfort is also not to be missed, thanks to a mid heel, comfort will be the least of your worries! Paired with a casual dress, or glamourous attire, the Hattice silver sandals will make you look drop dead gorgeous.
Fourth up in our list is the Hasina Silver sandals, which are simply stunning! Why not complete your look with our statement making Hasina Silver sandals? Featuring an upper strap, punctuated with crystals, and mid block heel, the Hasina Silver sandals are a stunning choice. There is also an extra padded insock, providing you with all day comfort for your special occasion. Beaming with style, the Hasina Silver sandals are great for your next Summer trip!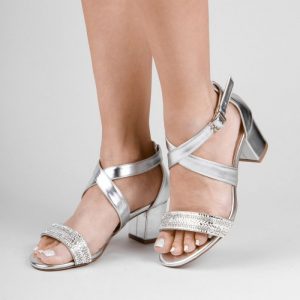 Last but not least, the Kitty Silver Sandals are fantastic for Summer! With a stylish strap, and high heel, you'll stand out from the crowd and maintain your comfort, with ease. The Kitty Silver sandals also feature pretty cross straps over the toe, which can really emit some elegance. Perfect for your next Summer party, comfort and style is not compromised with the Kitty Silver sandals. Styled with an elegant dress, the Kitty Silver sandals can really draw out the final touches.