As December rolls in and we all start to feel a little lethargic and maybe a little coldy (hopefully not), after the Christmas presents are bought, many of us will start to think about a well deserved mini break for the new year. This will, for most entail one of two things; a search for snow or for some warmer weather. At Paradox we are sun seekers, we look for great spots in which we can show off our striking shoes the year round. Here is our guide to packing the right shoes for a city break to some warmer destinations;
What shoes should I take for a city break?
You'll need to think proactively and take into consideration what you'll be doing. If you'll have a schedule crammed with sightseeing and lots of travelling around then you'll need a supportive pair of shoes or trainers.
There's nothing worse than walking for an hour in a beautiful city and feeling a sudden pain on your heel from a freshly formed blister. You'll be distracted for the rest of the day and it will limit the amount of walking you can do. Our 'Zeera' pearl embellished trainers are a sightseer's dream. They're cushioned, comfy and fabulous. But like any new pair of shoes, you should wear them around the house first before you go away, so they can mould to the shape of your foot. Wearing new shoes on a holiday that requires lots of walking is a big no-no. Remember to pack a pair or two of gorgeous silver diamante sandals to wear on romantic evenings out to dinner or events, like our 'Hattice' caged silver strappy sandals.
How many pairs should I take?
You shouldn't need to take any more than three.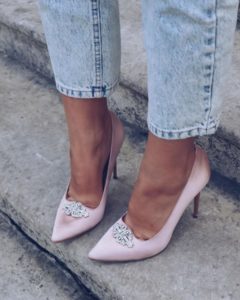 You'll need one pair of trustworthy shoes you know you can walk for miles in and still feel comfy. Pack a couple of classy shoes for any events you might have planned or for evenings out. For example, if you were to pack our 'Zeera' trainer for all the walking on your break then that's a lot of the daytime events covered. If you have our 'Alandra' blush court shoes, then you would have something to slip into for classy dinner reservations or to go out for cocktails.
What are the most versatile styles I can wear in the day and at night?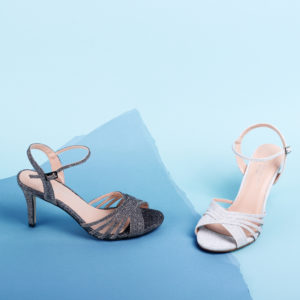 To answer this question, we are going to steer towards the sandals.As much as we love court shoes and the like, the problem with closed-toe shoes is that after long wear they may start to pinch the toes. Sandals offer much more breathing space for the toes while the straps make you feel completely secured and comfy. Two of our styles 'Hattice' and 'Harsha' are 7cm 7cm silver heel sandals, have caged toe straps for extra comfort and style, and ankle straps for security. The best thing is that as soon as the evening comes, they're ready to dance the night away.
I am going to be going out to dinner a lot and walking during the day, is there a comfortable stylish middle ground
Meet 'Zeera' your new best friend. 
What makes her so special is that she is a key trending colour of white and is adorned with sparkly diamante and pearl detailing for added style. Not only this, but the padded cushion lining is so comfortable and will keep your feet supported throughout the day. Then when it comes to the evening, your shoes are sparkly enough to be worn at just about any restaurant.