I'm going to garden party, what shoes shall I wear?
One of the phobias that many shoe lovers have is the dreaded enemy of all stilettos – grass.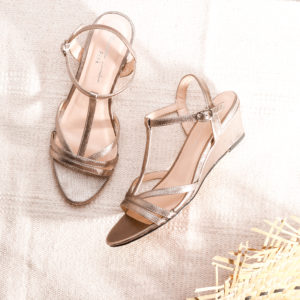 Regardless of the type of garden party you're attending, you still want to look your best, but towering stilettos may not be the best choice. Don't ignore the calling of espadrilles – even if the weather is slightly turning for the colder. Against the grass, they are your best defence and still can look gorgeous with the right outfit. Never underestimate the chic power of well-fitted washed blue jeans, a white blouse, a statement belt and a stylish pair of wedges to complete the look. It's a style that works for all occasions, but take a light jacket if you think the weather won't hold out. If you're not a fan of wedges then try footwear with a sturdy block heel to ensure you don't get 'that sinking feeling' when standing too long on the grass.
I'm going to boat or horse races, what shoes shall I wear?
It's good to remember that with outdoor events such as these, you will be on your feet quite a lot.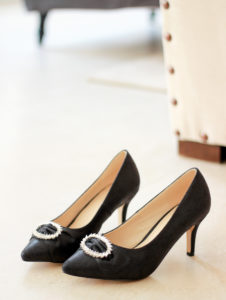 So first and foremost; wear a pair of shoes you know you can wear for long periods of time. If you have wide feet then never choose style over comfortable heels. A pair of wide fit black heels like our 'Lena' courts are perfect for either of these events because they can be worn with a wide variety of outfits – and you'll know your feet will stay comfy throughout the day. For the style of shoes you'd need to wear, courts or sandals with a reasonable heel height will do the trick. To reiterate, avoid wearing high stilettos as the pressure on the balls of your feet will increase tenfold, making them painful and distract you from the event itself.
I am going to an Autumn wedding what shall I wear?
Courts, courts and more courts! The autumn is the season for court shoes and they're a classic style to wear to a wedding. You will notice that the bride at the wedding will most probably have ivory wedding shoes in a court style. There will be a lot of standing, sitting, moving about and of course, dancing at the wedding, so avoid wearing something beyond your feet's capabilities. For you ladies with wide feet, you may feel more comfortable with wide fit heels, in which case sandals might be a practical option. This isn't to deter you from wearing courts or peep toe wedding shoes, sandals have more room and breathing space for your feet. Although the weather may be slightly unpredictable, there's nothing wrong with wearing sandals to an Autumn wedding, so fear not!
Shoes for me
I am pretty tall, but I don't want to tower over everyone what should I wear to look stylish but not like giant?
If you are quite conscious about feeling too tall then avoid anything with a large stiletto. There are a couple of options however, to ensure you feel comfortable and stylish without adding extra height. Flat shoes continue to be a popular style for women at various events or occasions. If you were to invest in a pair of silver flat sandals, you can dress them down with a pair of jeans, or dress up with a cocktail dress and matching silver clutch bags. A pair like our 'Sweetie' flat ivory shoes are a great companion for warm spring days in the sun.
I am on the shorter side of things, what can I wear without being in constant pain or looking like I'm on stilts but give myself a bit more height?
There's this awful misconception that a woman has to be in pain in order to look taller by wearing skyscraper platform shoes. The reality is completely different! A simple low heel 5cm shoe will still add a little bit of height and will not sacrifice the comfort of your feet. If you're going to a wedding and need a pair of mother of the bride wedding shoes, then our classic 'Romantic' peep toe shoes will do the trick. Sitting on a comfortable 5cm heel and with comfort lining in the vamp of the shoe, you'll look and feel taller and your feet will be in luxury all day. If it's a casual event in warmer weather then your best friend are wedges and espadrilles. The beauty of these shoes is that they can be very high, but incredibly comfortable so you'll never feel the pain in your feet. Our Theodore strappy wedges are made with esparto rope for comfort, an ankle strap for stability and are available in three different colours for style.
I have wide feet and am nervous about wearing anything open or semi open because I think this makes my feet look worse, what can I wear that shows off a bit but isn't too exposed?
Peep toe shoes are the answer to your problems! There are many women that have come to us with the same issue and it is completely understandable to be self-conscious about your feet, but there's not need to be! Peep toes are a cheeky, traditional shoe that has been around for decades. They are a way to open the shoe slightly without revealing too much. Not only that but it helps to give your feet extra room to breathe so they don't ache as much. A few of our ranges such as 'Gigi', 'Gracia' and 'Gabrielle' are beautifully stylish wide fit shoes. If a peep toe is not a shoe you would consider, then perhaps a closed-toe wide fit shoe will be a better option. Our closed-toe wide fit shoes have extra room around the toe area, so your feet and especially your toes will not feel cramped.