Whether it is a milestone birthday, an anniversary, or another life event, lockdown should not have to mean sacrificing the special occasion you had always dreamed of. After all, these celebrations are the times we bring loved ones together and truly create memorable moments. So, instead of missing out on your upcoming occasions, why not make the most of these difficult times by celebrating together online?
Zoom celebrations have been on the uprise, since it is a great way to stay safe and connect with friends and family. Whilst we understand this may not be the exact same as a night out with friends, or intimate family gathering, it certainly can be enjoyable!
Why not glam up for your next e-celebration with our new collection and celebrate the moments you will treasure forever? With an online video call, some delicious snacks and beverages and a self-care pamper session just before, you'll be able to ensure you make the most of your next occasion during lockdown.
Our new occasion shoes collection features some truly magnificent pair of heels, that will make you feel as elegant and beautiful as ever, and are perfect for all kinds of occasions, even online ones!
Without further ado, here are our top picks to make the most out of your next online occasion.
Lottie Silver
First up in our new arrivals is the gorgeous Lottie Silver occasion shoe. These gorgeous occasion heels are the ultimate choice for the girls out there for a shoe that is as unique as it is comfortable.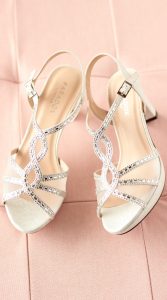 This mid heel T-Bar is the epitome of elegance and shine, and pairs well with a variety of outfits, so regardless of the occasion you can be sure to stand out. Featuring delicate mesh inserts and stunning crystal adornments on the straps, these shoes certainly do make a statement. Thanks to its mid block heel, stability and comfort isn't an issue.
Whether you are considering a sleek black dress, or sparkly nude skirt with a white top, the Lottie Silver shoes are a dazzling choice!
Flamenco Silver
If you're looking for something that is a bit more reserved, but still captures the essence of a special occasion then the Flamenco Silver occasion shoe may just be what you need! These gorgeous heels not only radiate a dash of sophistication, but they really do radiate the more traditional style of an occasion shoe.
This high heel T-Bar extenuates a more simplistic style with minimal detailing and can work effortlessly with a lavishing detailed black dress. In fact, the flamenco silver heels can be paired with an endless number of dresses, making them a great addition to any occasion. Featuring a gentle round toe and stable block heel, these truly are the perfect heels for dancing the night away in style.
Regardless of whether you're planning to attend an online anniversary or birthday, the Flamenco Silver shoes are on hand to make you feel as gorgeous as ever.
Fifi Champagne
If you're a fan of court shoes, then these delightfully dazzling heels are here to save the day! The Fifi Champagne heel is glam packed and combines the design and craft of a daring occasion shoe, with the sophistication of a court shoe, and are perfect for those extra special celebrations.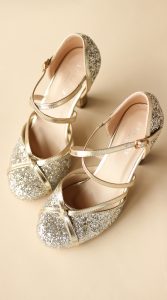 With intricate detailing and a delicate strap, these beautiful heels work to style up any kind of outfit. Whether you want to style your outfit simplistically, and accessorize lavishly, or wear something bold, our Fifi Champagne occasion shoes are the perfect addition. Featuring a stunning glitter round toe, and metallic cross staps with overlay detail, these shoes are the most efficient way to upscale any outfit!
For those extra special celebrations, our Fifi Champagne shoes are on hand to add that extra special touch to your occasion.
Whether it's occasion shoes you're after, or a pair of dazzling wedding shoes for a postponed celebration – our new collection has it all!