One of the most important challenges any bride faces is choosing her wedding outfit. The dress, the shoes, the accessories, it can feel like a lot to handle! When it comes to finding the perfect pair of shoes, its understandable that some brides have various question or feel unsure about what kind of wedding shoes to wear. The biggest question we hear is 'what shoes should I go for if I'm wearing them for 12+ hours?'.
There's no reason to panic though! We've got all the insights and answers from years of experience and dealing first-hand with these types of questions!
If you're looking for some beautiful wedding shoes for your big day, then you'll find some beautiful ones here!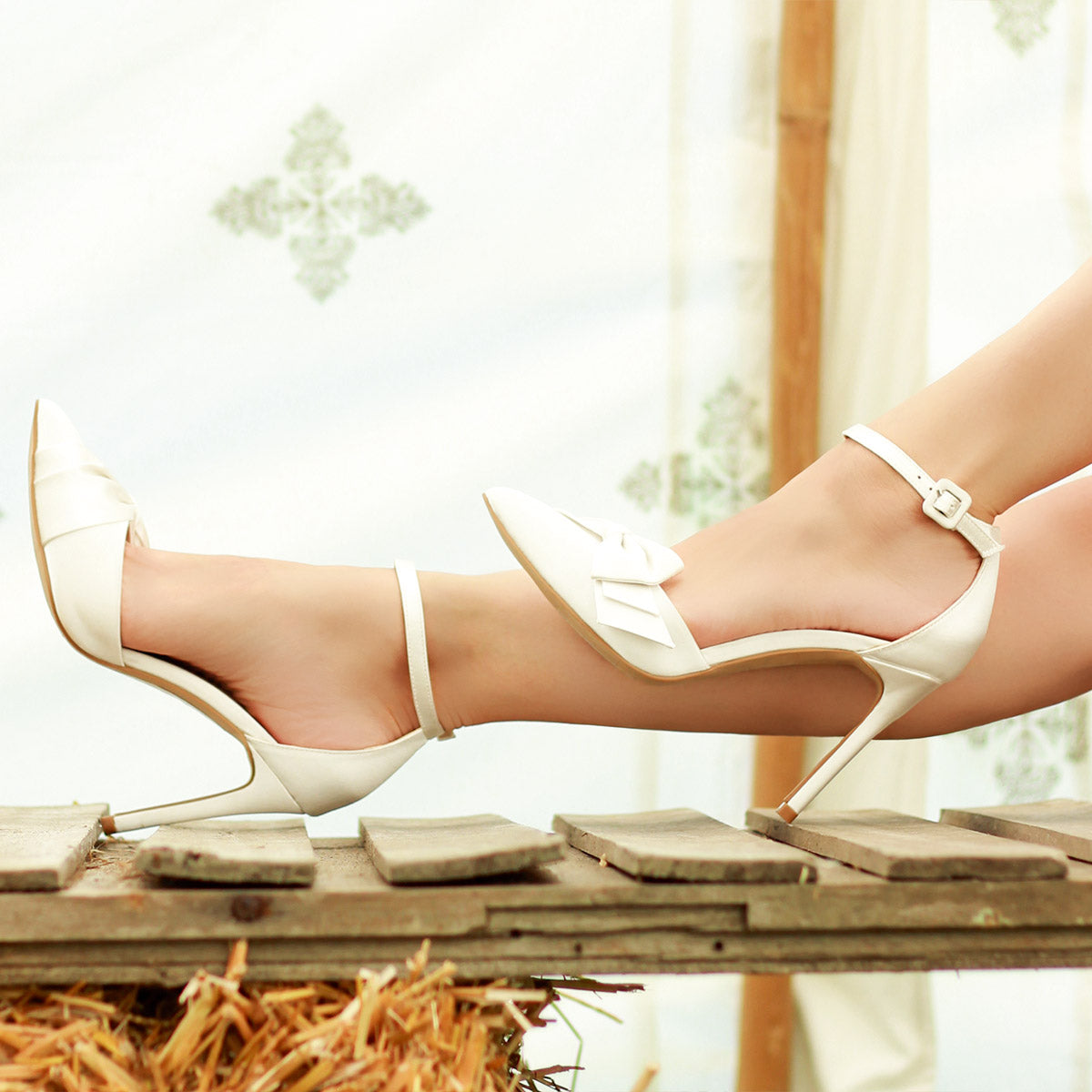 Should I choose my wedding shoes before or after the dress?
When you buy your wedding shoes will depend on what feels right for you. Some brides have a particular trinket, theme or photograph that they use to design their wedding and outfit. Others go for what 'feels right' when they try a dress on and hey, why shouldn't it?! We've had a lot of brides coming to us and falling in love with a pair of shoes and simply building their wedding style around their bridal shoes. Some brides already have a dress they've fallen in love with, they're just trying to find the perfect matching shoes.
There's no right or wrong answer, you style your wedding outfit how you see fit – it's your big day!
Which heel height should I go for?
This is a classic question. It directly relates to the question we mentioned at the beginning; what heel height do you need if you'll be wearing your wedding shoes all day? You need to ask yourself the first question; 'what shoes am I comfortable wearing?'.
You might wear a pair of stilettos every day for work or leisure, or you might wear a pair of flats. The fact is, if you go straight for a 9cm stiletto court shoe like these and you're not used to them, you'll definitely suffer. Low heels of about 4cm or flats are definitely on-trend and sexy shoes don't just mean a pair of killer skyscrapers! Try them out and go with what feels most comfortable to you.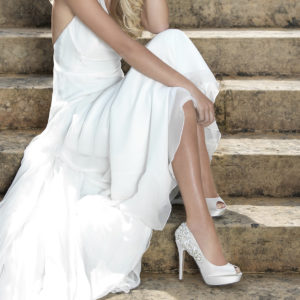 Do my wedding shoes have to be white?
Absolutely not! You'll find that many retailers have ivory wedding shoes, especially dyeable ivory satin. The most popular wedding dresses are ivory, but it doesn't mean your shoes even have to match that! A contemporary bride may want a pair of blue shoes for their 'something blue', or just a vibrant shoe that they can wear again and again after their big day. A lot of ivory shoes also come in a dyeable fabric, so brides can wear ivory on their big day and then have their shoes dyed afterwards!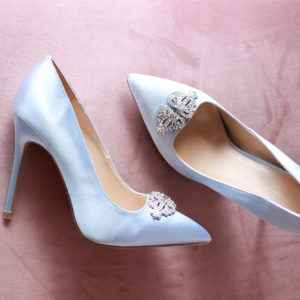 Should I wear my wedding shoes in?
Beyond a shadow of a doubt. Wearing the shoes around the house will help you to determine if they are the perfect fit and if you'll be comfortable in them. Comfort lining in the shoe helps to support the main areas of the foot that experience pain and trying on the shoes just helps to make sure the shoe supports your foot correctly. Many wedding shoe companies have a returns policy, so you can wear them around the house for a couple of days to be sure. Just don't go walking outside in them! Save that for your wedding day!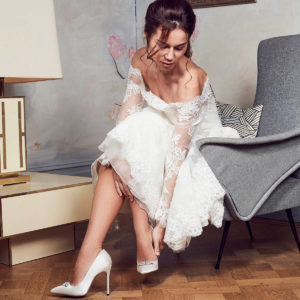 Wedding shoes for a vintage style wedding dress?
Vintage frequently incorporates lace and embroidered designs in wedding dresses, therefore you will need a pair of shoes that fit well into the era you're aiming for.
If you're wearing a longline wedding dress, then a discreet kitten heel would work best. If you're wearing a tea length dress or shorter, you may want a bolder shoe to make more of a statement. It might just be a personal thought, but a lot of vintage dresses incorporate lace on the sleeves, or across the dress itself. Luckily you can find a beautiful pair of lace wedding shoes here!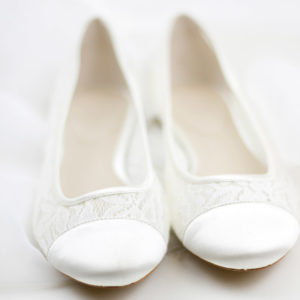 Wedding shoes for a statement dress?
If the wedding dress you've chosen has lots of embroidery, jewels, or details on it then you may want simplistic wedding shoes to complete the outfit. A detailed A-Line dress would look beautiful with a clean soft pair of court shoes like these Mary Janes!
When in doubt, there's nothing wrong with going all out and finding a pair of shoes just as detailed as your dress. Go all out or go safe, either is good!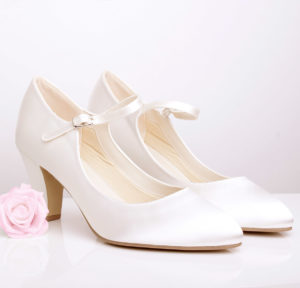 Should I consider the venue when buying wedding shoes?
This is definitely a question to consider when shopping around for your shoes. If your venue is in one place and indoors then you'll relatively be okay with whatever bridal shoes you decide on. If your venue takes place outdoors, you'll need to invest in a pair of heel stoppers or a pair of block heel wedding shoes, which are the best option for grassy venues. Peep toe shoes can be worn all year round, sandals and sling backs are good for warmer climates and court shoes are perfect for the winter months.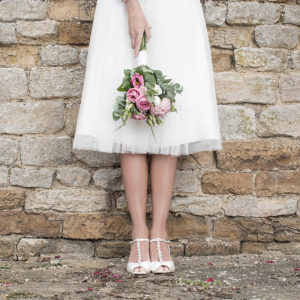 What if the weather is bad on the wedding day?
There are lots of different precautions you can make in case the heavens decide to open and in the UK, that's a possibility. There is a variety of sprays and solutions that you can apply that prevent dirt and water marks from staining your wedding and your bridesmaid's shoes. Do check the label before you purchase a protector just to ensure it won't spoil the material of the shoe. When in doubt, ask your maid of honour to pack a spare pair of shoes that you can wear to and from the venue to avoid ruining your nice wedding shoes!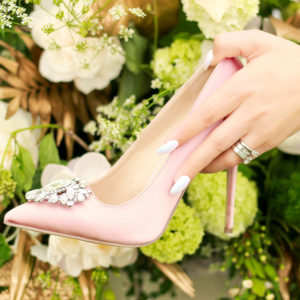 What does the silver sixpence tradition in wedding shoes mean?
Sixpences date back to 1551, but this tradition could be older than that! It's a sweet custom that is meant to bring the bride prosperity and money all throughout her marriage. There are variations of this custom throughout the world but the meaning is always the same; a blessing that the bride and groom are never without money. Great British traditions state that the bride's father slips a sixpence into her shoe before she walks down the aisle, as a wish that his daughter never has to be without money.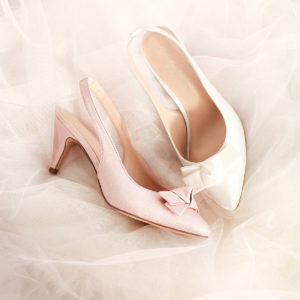 What if I don't want to spend too much on my bridal shoes?
The idea of spending lots of money on a wedding worries many brides and can cause a lot of unnecessary stress. There are shoes across the market at various prices but only spend what you know you can afford.
You can find a beautiful and comfortable selection of affordable wedding shoes here! 
Can I customise my own pair of wedding shoes?
When it comes to weddings nowadays, anything goes. Don't feel like you have to wear something traditional or even something 'out there', style your wedding to how you want it.
There are many images I've seen on Pinterest or on blogs of brides having their shoes customised by being embroidered or painted upon. My favourites were the soles of a pair of stilettos that had been painted as the stained-glass window from Beauty and the Beast. If you happen to find someone that provides this service, check their portfolio and ask questions to make sure they cater for what you require!
Can I wear something alternative to a wedding shoe?
Of course you can! I have seen pictures of a beautiful bride in an ivory ballgown wedding dress and a pair of tan cowboy boots in a barnyard venue. 'Alternative' brides usually go for the unconventional when designing their wedding and wedding outfit. My own sister had a pair of white converse trainers bedazzled and embroidered for her wedding and they looked fantastic! Wedding trainers are becoming more and more popular amongst brides and they not only look good, but are incredibly comfortable to wear all day!

What if I want to wear my wedding shoes again?
There's that little itch you get when you see your wedding shoes in the wardrobe and you just want to slip them on and relive your wedding day! But why only wear them in the house? If they're a vibrantly coloured shoe or even a pair of silver sandals, why shouldn't you wear them out and about? You can think ahead by doing what we mentioned earlier, if you purchase a pair of ivory dyeable shoes then you can have them dyed to a colour of your choice after the wedding! That way you can wear your wedding shoes again and again and feel the same thrill you did on your wedding day!
Finally, don't forget your actual feet…
I'm sure on your big 'to do' list there'll be the 'get nails done' item. But why stop there? Go full out and get a pampering! You'll be relying on your feet throughout your entire wedding day, so give them the TLC that they deserve! Get a massage for soft radiant skin, get those cuticles neatened and have your toes painted a beautiful colour to match your outfit – a clear gloss if you want to keep it natural!
If you're looking for the perfect pair of wedding shoes, you can take a look at our beautiful selection here!