So what are your choices for Wedding Shoes, what should you wear, what do you want to wear and should you play it safe? In our opinion playing it safe is never a good move for bridal or bridesmaids' shoes. If it is your special day, don't be afraid to add some extra dazzle to your bridal shoes:
Many women rule out wedding sandals for their top choice bridal shoe if they aren't getting married on an exotic island or in the heat of Summer and to this we say, don't be so sure. If we can guarantee one thing the excitement, anticipation and thrill of the day will leave even the coldest blooded blanket hugger with very little room to feel cold. That isn't to say immediately reach for the wedding sandals regardless, obviously you know yourself you should never ignore what your heart is telling you. However, don't rule the them out they are delicate, sophisticated and beautiful and what they lack is more than made up for in their stylish elegant appearance.
Quite simply these are the most traditional choice for wedding shoes. However, don't confuse traditional with dull, these shoes are stylish and comfortable in equal measure. In fact, we think you would be hard pushed to find an occasion shoe that you can wear all day and most of the night (if you fancy it) with a stiletto heel. As for the kitten heels, they are always a perfect balance between style and comfort! Our collection of Court Wedding and Bridal shoes are offered in carefully selected colour pallets and two delicate fabrics that are equally flattering and beautifully finished. Lace occasion shoes are a little more traditional and they are best suited to those who want to keep their wedding outfit immaculate, effortlessly feminine and sophisticated. The satin shoes however have a bit more dazzle to them, however this is certainly not overzealous, but they reflect the light and gleam, conjuring the idea of glass slippers to mind, just less likely to fall off and way more comfortable.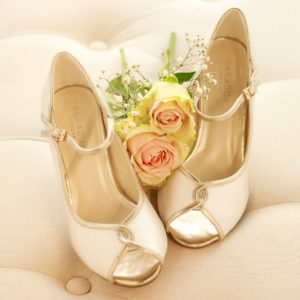 These are the shoes of choice for the self-assured woman who wants to look as impressive as she does beautiful. Peep toe shoes are a particularly good choice for bridal shoes if your wedding dress is not a full gown or any other occasion where your shoes will be seen as they are undeniably glamorous, but that peep toe feature really adds a cheeky and yet glamorous addition to your entire ensemble. These shoes all have some additional detailing is which adds to their classy appearance, whether it be layered indulgent satin, shimmering glitter detailing or opulent gold straps this collection is sure to leave a lasting impression.
This collection is simply gorgeous, giving anyone the ability to make their legs look as if they go on forever. This collection is the height (pun not intended) of opulence, glamour and jaw dropping style. This collection is especially perfect for any bride-to-be who feels that they are a little on the shorter side of things and would like a little more height for their special day. Our only key pieces of advice would be, although these bridal shoes are glamour incarnate, get some practice in before you walk down the aisle. You wouldn't want the glamour you add to your outfit with a pair of these wedding shoes to be a topple or even a near miss!

Adversely flat wedding shoes are perfect for anyone who knows that they are more themselves when they are comfortable. With our collection of flat wedding shoes you are sure to be comfortable and effortlessly stylish in shoes you could wear for 100 weddings back to back! Our flat wedding shoes collection features a range of dainty and beautiful occasion shoes as well as wedding trainers that are perfect for keeping your feet happy and looking beautiful.
Occasionally we hear of women who won't admit that they have wide feet, this may be due to some kind of misplaced embarrassment or maybe they just aren't comfortable. However, this isn't the middle ages, don't have your special day marred by squeezing your feet into something that doesn't fit your feet or is entirely the wrong shape. Whilst wide fit shoes may not sound glamorous, this category ties together the best and most flattering options from every collection into a collection specially designed to make any women with wider feet feel glamorous, sophisticated and downright gorgeous, as they should!