Nowadays, there are an overwhelming amount of styles of occasion shoes available, which is why it's no surprise that finding the perfect occasion shoe can take hours to do! With the amount of choice available, how do you choose the right occasion shoe for you?
Since shoes can truly make or break an outfit, it's crucial to choose the right pair for the occasion. To help you navigate through the endless options of sandals, platforms and flats, we're showcasing our essential styles of occasion shoes that every woman needs to have in her wardrobe! Pinned together with a gorgeous outfit, these wardrobe staples will be sure to help you radiate confidence in every step.
Occasion Court Shoes
The first style in wardrobe essentials is the Court Shoe. The court shoe originated several years ago, initially worn in the royal courts which is how the name 'Court Shoe' was created. Fast forward to today, we're now seeing these glamorous shoes truly teem with versatility through their style and design, making court shoes a must have for any girl's wardrobe!
Thanks to their sleek low-cut front and closed toe, court shoes are renowned for being a traditional choice of occasion shoes. Heel height is important to consider when choosing the right court shoes for your next occasion since they really can make all the difference in your outfit.
If you're opting for a formal look, choosing a mid-heel court shoe will help you pair your heels to your outfit naturally, whilst remaining stylish!
Or, for a more daring look, why not choose a high-heel court shoe like our Alandra Silver Glitter High Heel Court Shoe? You'll find that these stunning heels can make for the perfect choice for formal events and nights out!
Sandals
Next up in our essentials are Women's sandals. Women's sandals are available in a variety of styles and designs, making these dazzling occasion shoes an absolute essential part of any wardrobe. The staple footwear for the Spring and Summer months are not only drop-dead gorgeous but are also perfect for any type of occasion!
Women's sandals are undeniably diverse, making the process of finding the right pair seem difficult. But this isn't the case!
Starting with our high heel sandals range, you'll find that these daring heels make for an essential staple for nights out, special occasions or even formal events. Adding an extra oomph to your outfit, the high heels sandals range can really emphasise the finishing touches, helping you stand out amongst the crowd!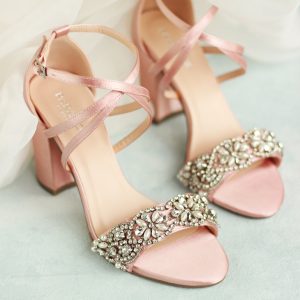 Or, if you're looking for a more casual look for day-to-day wear, our delicate and stylish low-heel sandals range can help add that little bit of glam to any day. Perfect for pairing with work attire, or wearing for a stroll through the city, our low-heel sandals are a great way to enhance your outfit - effortlessly.
Platform Shoes
Lastly, our occasion shoes essentials wouldn't be complete without a pair of show-stopping platform shoes. Stylish, and daring, platform shoes are essential for those looking for a little lift in their step, and have provenly become popular over the years because they're bold, extremely supportive, and great for those who want a little extra height!
If you're seeking a versatile style of shoe that can be paired with any outfit and adds an additional wow factor, a show-stopping platform shoe is the perfect choice.  Ideal for all types of formal occasions, celebrations, and nights out, platform shoes an essential wardrobe staple.
For the girls who are looking for a bold style, you'll find that the Indulgence Ivory High Heel Platform Peep Toe are a daring choice, perfect for those extra special celebrations.
Or, if you're looking for something a bit more formal, our elegant Hinoa Ivory High Heel Shoes can be a great way to add a touch of sophistication to any day! Great for pairing with formal attire, these stunning platform shoes are the ideal way to elevate an outfit, naturally.